Looking Back at WWDC 1990
by Brendan Shanks
Although circumstances have unfortunately forced the upcoming 2020 Worldwide Developers Conference to be online-only, I thought it would be fun to look back 30 years to WWDC 1990, the second conference held (and the first for which a CD was published).
On May 7-11, 1990, Apple Computer held the second-ever Worldwide Developers Conference at the (then-new) San Jose Convention Center in San Jose, CA. A newsgroup post indicates that the attendance fee was $195 per day, and hotels were available for $56-135 a night.
For some historical context, Macintosh System 7 was introduced a year earlier at the 1989 WWDC, and would be publicly released a year later in May 1991. It was a major focus of the conference.
A/UX 2.0 had previously been announced, and was released soon after in June 1990. The "wicked fast" Macintosh IIfx had also been released in the spring of 1990. Apple IIGS System 5 had been released in 1989, and there were several Apple IIGS-related sessions.
Also interesting: Microsoft Windows 3.0, considered by most to be the first usable version of Windows, was released a few days later on May 22.
TidBITS and InfoWorld both covered the event at the time.
---
I have to admit, I'm burying the lede a bit: this year on eBay I found a 23-minute-long, Apple-produced VHS tape of the conference.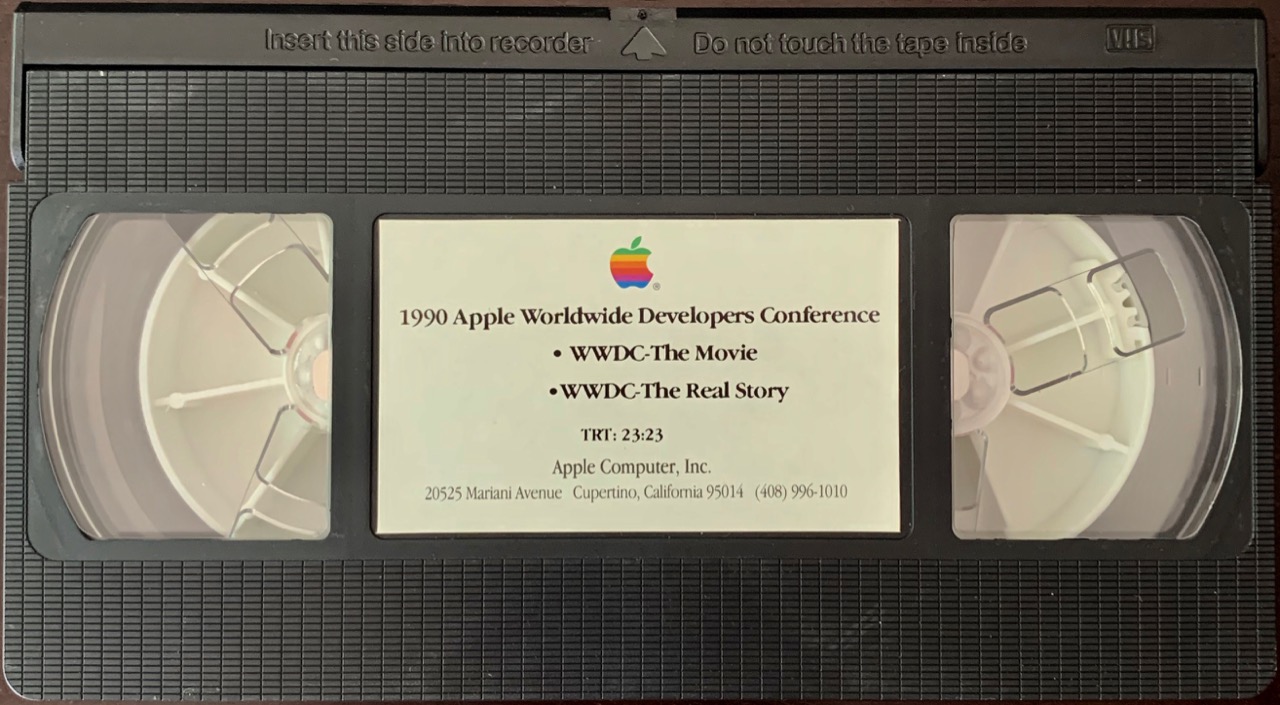 It's not technical at all: the first half is just B-roll of attendees and the convention center, and the second half is a cringey walk-around of the conference.
This video is peak weird-90s-Apple. Just watch it.
Big thanks to David Greelish for capturing the VHS tape! He's working on a documentary about the Apple Lisa that looks fantastic, you can pre-buy it now.
WWDC - The Movie / WWDC - The Real Story
Now that the video has transported you to San Jose in 1990, it's time for the presentations!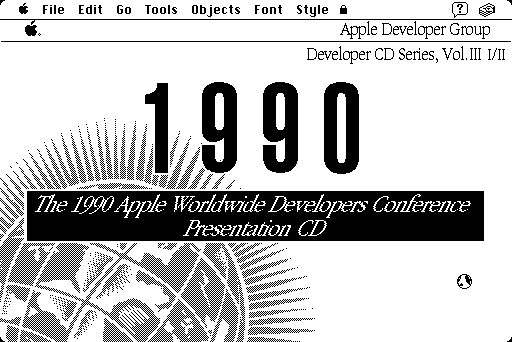 The conference disc was Volume 3 1/2 of Apple's then-new Developer CD series, and included the slides of all presentations as well as two HyperCard stacks: one serving as an overall catalog/launcher of the presentations, and another holding a full directory of all 2154 attendees.
It can be downloaded (in the inconvenient MDF/MDS format) from the Internet Archive, or from my server in .cdr. In addition the presentations were originally created with PowerPoint 2.0, I converted them into PDF using PowerPoint 2.0 and Adobe Acrobat PDFWriter 3.0 running under OS X 10.4.
I only recognized one presenter who is still a household name for Apple enthusiasts: one Philip Schiller, credited as a "Multimedia Specialist".
The sessions cover a wide range of topics: the Mac and System 7, A/UX, the Apple IIGS, networking, development tools, hardware, business/marketing, and more. Enjoy!
---
Monday: Track 1/Room A
Monday: Track 2/Hall 1
New Capabilities of Mac OS: HFS, Multitasking, Virtual Memory
Not for the technically meek! These presentations will teach you about the new capabilities of the Macintosh operating system under System 7.0. You will gain insightful programming tips and techniques to take advantage of.
Presented by Dave Feldman, Macintosh OS Group, Late Night With HFS; David Harrison, Denture Wearer; Joe Buczek, A Virtual Engineer
Taking Advantage of Finder 7.0
Everything you need to know to take advantage of the new Finder capabilities is included in this presentation. Find out how to use the new icon families, new System subfolders and Finder AppleEvents. It also covers Finder-related Human Interface issues.
Presented by Paul Hudspeth, Finder Product Manager; Phac Le Tuan, Engineering Manager, Macintosh System Software; scott douglass and David Owens, Finder 7.0 Engineering; John Sullivan, Macintosh Human Interface Group; John Meier, Finder 7.0 Engineering
Monday: Track 3/Hall 3
Tuesday: Track 1/Room A
Tuesday: Track 2/Hall 1
Tuesday: Track 3/Hall 3
The Past, Present, and Future of the 68000 Family
Michael Slater, editor of the authoritative industry newsletter, The Microprocessor Report, and an expert on Motorola's 68000 family, shares the microprocessor's past, present and future in this presentation. Also covered is how that future applies to you.
Design Elements of Object Programming
Based on the popular two-day Developer University course! This presentation covers the principal elements of software design that you will need to know to fulfill the potential of object programming. It will teach you practical tips for making source code more easily transportable between applications, and for designing your software more efficiently.
Presented by Neal Goldstein, President, Neal Goldstein Design, Inc.
Macintosh Allegro Common Lisp Update
Recent developments in Macintosh Allegro Common Lisp and what we plan for the future. This presentation will show you how developers are using Lisp for prototyping, research projects and commercial application development.
Presented by Laura Clark, Development Tools Product Marketing, Lisp Product Marketing Manager; Bill St. Clair, Macintosh Allegro Common Lisp, Lisp Hacker - ATG Cambridge; Matthew MacLaurin, SIAC / SQA, Lead Engineer–Automation
Wednesday: Track 1/Room A
Wednesday: Track 2/Hall 1
Wednesday: Track 3/Hall 3
Wednesday Evening Address by Alan Kay
Thursday: Track 1/Room A
Thursday: Track 2/Hall 1
Thursday: Track 3/Hall 3
Friday: Track 1/Room A
Friday: Track 2/Hall 1
A/UX Technical Insights
This presentation by the Apple team shows you specifically how your Macintosh applications work under A/UX. Learn how A/UX 2.0 implements MultiFinder, the Toolbox, and File System.
Presented by Mike Chow, Joe Sokol, Steve Peters, Winston Hendrickson, A/UX Engineering Project Leaders
When and How to Write A/UX Drivers
A/UX support for your peripherals has never been easier. Learn about our new A/UX version which implements most existing hardware managers. This presentation will show you how to take advantage of these new resources to simplify drivers.
Presented by Rob Smith, John Sovereign, A/UX Product Development
Business Opportunities in A/UX: A/UX Opportunities, The Market Opportunity for A/UX 2.0
Interest in UNIX is hot–and the same is true of A/UX. These presentations will teach you more about Apple's objectives for A/UX, its channel programs and how your company can prosper from the growing business opportunities.
Presented by C. Clettenberg, Howard Green
Friday: Track 3/Hall 3
Object Programming Inside and Out: Object Programming in THINK C and THINK Pascal, MADA, MacApp, and SCSI Installers
Everything you ever wanted to know about object programming–from design principles to debugging. These presentations will discuss advanced techniques, how to use browsers and inspectors effectively, and several other tricks of the trade. They'll run through a range of object languages–Object Pascal, C++, THINK Pascal and THINK C–and application frameworks, including MacApp and the THINK Class library.
Presented by David Neal, Senior Software Engineer, Symantec Languages Group; Carl Nelson, Founder & VP Development, Software Architects, Inc., also Founder & President of MADA;
MCP and A/ROSE
Here's a complete description of Apple's MCP cards and A/ROSE operating system, and an explanation of how we license the two. This presentation will show you the facilities that Apple gives you for NuBus development and how you can use the MCP cards in your applications.
Presented by Robert Breuninger, Applications Engineering Manager, Datapath VLSI Products, Texas Instruments, Inc.; David Comstock, Senior Software Engineer, Apple Computer, Inc
---